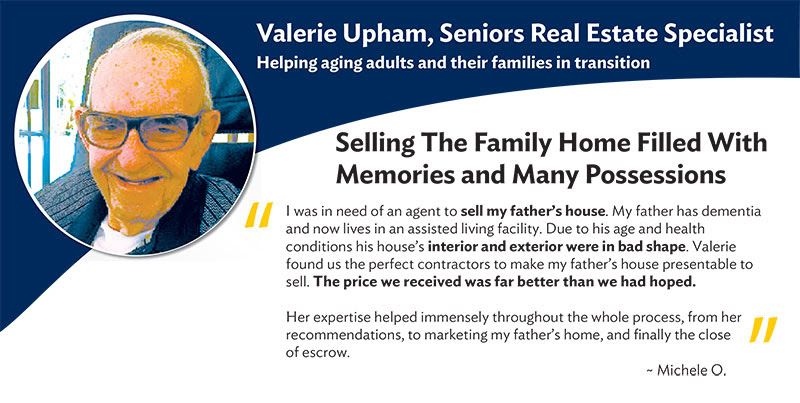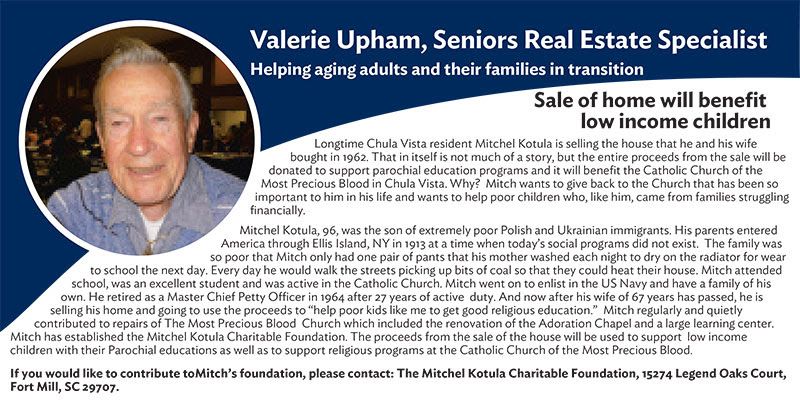 What my clients have to say…
"I am very grateful that my parents chose Valerie Upham to be the realtor to sell our family home--their home for 57 years and the residence where my brother and I had grown up. Selling the family home so that my parents could move to a retirement community was a busy and draining experience both in terms of sorting through and selling years' worth of items, and emotionally in terms of our family entering a new stage in life. Valerie helped my parents and I make decisions in terms of what remaining upgrades should be done to help the house be even more marketable, while still watching out that our money was being used wisely. Valerie is truly more than a realtor, she develops relationships with her clients. She was always compassionate about the emotional aspect of selling our home, and continues to check in with my parents and with me even a year after the sale to see how we are all doing. It is nice to know that our home is now in good hands with young buyers who are starting their lives as a family there."

~Jill E.

"We are pleased to recommend Valerie Upham. After considering several realtors, we hired Valerie based on her very good reputation and expertise as well as her affiliation with a respected realty company. Valerie was easy to work with as we prepared to sell our home of over 50 years. She gave her professional opinion on everything from the pricing to which upgrades to do to how to stage the house to appeal to today's buyers. She knew our neighborhood well, and had good vendors to recommend, but was also open to using the experts we've used in our home in years prior. Valerie was proactive in marketing our home in traditional ways such as MLS listings and realtor caravans, but also through ads in upscale publications and even creating an open house party/event for the community. She made selling our home a better experience by being a good communicator, making herself available, providing professional opinions based on years of experience, and staying on top of every step of the process. We recommend Valerie to anyone looking for a realtor."

~Dr. & Mrs. E
​​​​​​​

"From a Distance- I needed to sell my dad's house from about 460 miles away, and was very worried how it would all get done. The house needed paint, repairs, windows, new carpet, landscaping, staging, termite work and Valerie handled everything long distance to get the house ready to be listed.
She ended up making the house look better than it's ever looked. She not only performed this huge feat in record time, but miraculously got as a final offer 50k over the listing price. We got 12 offers in the first weekend, in this unstable economic period. I can't say enough good things about what a terrific person, friend and agent Valerie Upham has been."

~Rob C, Danville, CA

"I needed a fast sale of my mother's home and Valerie met with me, suggested several options, immediately contacted potential buyers, and I had an offer in 24 hours - that's fast! Valerie is personable, ethical and well connected. When I needed to immediately clear out the house of contents, Valerie provided resources. When I needed an attorney, she provided a valuable referral that I would not have found on my own. Valerie is very caring, responsive, and a joy to work and I would welcome the opportunity to work with her again."

~Cindy L.

"Valerie did a great job selling our folks home! Her marketing expertise, business acumen and savvy advice all proved essential in us getting our best price. Everything went very well and we couldn't be happier with the results. Valerie really knows her stuff! Plus she was just a pleasure to work with!"

~Joe P.

"I would like to say that Valerie Upham has been an excellent realtor to us. She has been very helpful and has gone above and beyond what would be required in her position. With the mileage difference of almost 3,000 miles, she has had to handle many things that would have been much easier if we were there in LaMesa. Please know that we appreciate all she has done and feel that you have a very good employee in Valerie."

~Ingram Family